Campaign Details: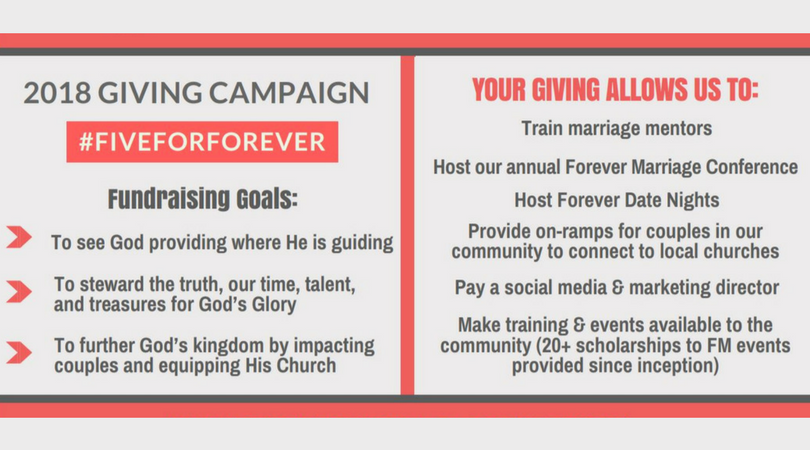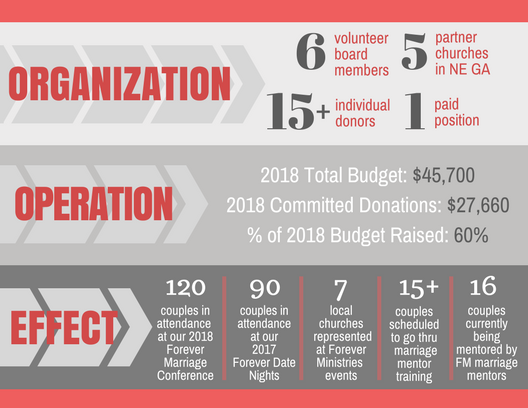 Would you consider signing up to give today?
Forever Ministries is crowd funded by generous couples, families, and businesses who see the need for healthy relationships in our community. You can support us as well through our new "Five for Forever" giving campaign. By giving just $5 a month, you can help us support healthy relationships in our community!
6 other ways to support :
Donate:
Our ministry is growing and your generosity can help. We know wherever God calls, He provides. We trust He will lead people like you to give at just the right time and His timing and provision are always perfect! Please consider giving so we can grow and help marriages flourish!
Sponsor:
You can sponsor a couple or table for our next Forever Ministries Event. Your financial support helps us reach couples who might not be able to afford a romantic evening out or conference on their own. Your sponsorship can change their future.
Attend and Invite:
We would love for you and your spouse to join us at our next Forever Marriage Conference. Because we all know friends and family members who could use a fun evening out to invest in their marriage, invite them all to come along.
Support us in Prayer:
We deeply appreciate your prayers for this ministry, the couples who attend our events, as well as the community groups we support. Above all, please pray God will be honored and glorified through the work of this ministry.
Partner with us in ministry:
We are partnering with local churches to impact a larger region. Currently we are partnered with several local churches and local businesses. If you are connected to any church or business who might like to join our cause please contact us and help us make a divine connection.
Join our team:
If you and your spouse live in the North Georgia area and have a passion for Christ and encouraging couples to thrive in their marriage, pray about joining our team. It is the opportunity of a lifetime. You can play a part in impacting one of the most important relationships God created.
What People are Saying
We are delighted to partner with Forever Ministries, and I'm confident you will be wonderfully encouraged by their events and conferences. I recommend Forever Ministries to any married couple seeking to grow in the Lord.
- Dr. Tom Smiley, Senior Pastor, Lakewood Baptist Church