GOD WILL FINISH WHAT HE STARTED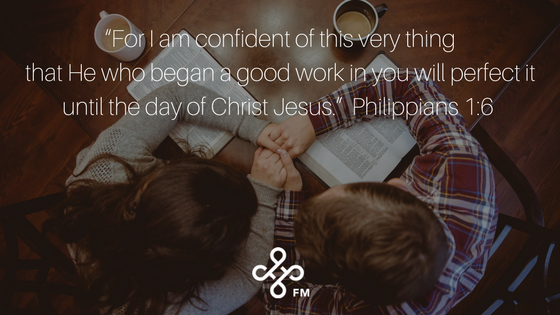 "I've struggled the great majority of my life with perfectionistic tendencies. I like things done right. I like things done well. I can't stand mediocrity. In my mind, if it's not going to be done right and with excellence, why do it at all? What's the point?

Years ago, I had to come to the realization that when it comes to the Christ-life though, I am not perfect. I fall short of the goal often. In this life, it is not likely that I will achieve perfection.

Notice what Paul says in the above verse. It is God Who began the work in you and me. And, it is God Who will perfect, mature, and complete the work in you and me. Finally, God's work in you and me will continue until the day that either Jesus returns for us or we return to Jesus at death.

You and I are works in progress. God is not finished with us yet. But, God will finish what He started. Our lives in Christ are designed by God to be in a steady growth pattern towards maturity and perfection. But, growth in Christ is measured by progress and not perfection."

-From Scott & Dawn Smith's Principles of Life
---
As two imperfect and sin proned humans, marriage is one of the refining tools that God uses to mold us into the image of Christ. Marriage daily highlights our sin and our inadequacies. And the enemy often screams at us in the midst of a struggle, "You are a failure!" OR "You will never have the marriage that God wants you to have." OR "You both have too many issues, just give up!"

But, NO, we can stand firm in the truth of Philippians 1:6, that He who began a good work in us will perfect it until the day of Christ Jesus. That's a PROMISE. Preach that to yourself when the enemy is trying to deceive you.

This is the reality: We are works in progress. Our marriages are works in progress. Will we mess up? YES. Will our spouse mess up? YES. But God is in the business of GRACE and REDEMPTION. And you and your spouse can know with confidence that He is working faithfully to transform you both into the image of His Son. And it's all for our joy and His glory.
---