WINTER DATE IDEAS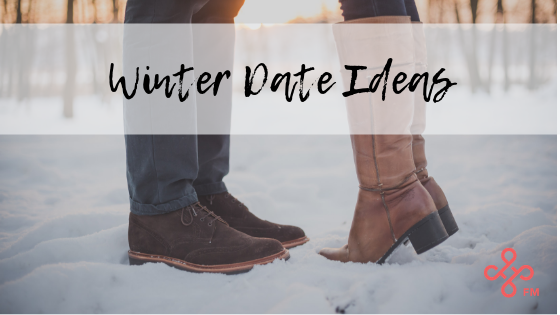 The winter season provides great opportunities for some fun and festive date nights! With colder weather, people usually feel more inclined to just stay in, especially we southern folk who have a hard time acclimating to below freezing temps. But don't let that stop you and your spouse from having regular date nights! We've got some great Winter Date Ideas for you - check them out!
1. Go ice skating.
It's a fun activity that most people don't get to do often and it's a good excuse to hold hands. Grab some dinner afterward and reflect on the past year. What were the highlights? How have you seen God working in your lives?
2. Volunteer together.
Spend some time serving others at local soup kitchen. Go for coffee after and process your time serving together. How was your experience? What did you learn?
3. Take a walk down memory lane.
Cozy up next to the fireplace with some hot chocolate and reminisce of when you first met and began dating. Watch your wedding video or go through your wedding photo album. How have you seen God work in your marriage so far?
4. Go roller skating.
We all loved to do it when we were younger, why not now? It's bound to be an entertaining time and you'll probably want to hold hands if it's been a while since you last skated.
5. Decorate a gingerbread house.
Turn on the Christmas jams and get creative together! As you're building your gingerbread house, brainstorm how you can build into your marriage. What are some new ways to invest in your marriage?
6. See the lights.
Drive around to see the lights around town. Or visit Lanier Island's Magical Night of Lights where you can enjoy their beautiful light display and other holiday activities. Use your time in the car to talk about how you can be a light in your community? Who can you share the gospel with?
7. Go bowling.
Bowling is a pretty inexpensive way to have some low-key fun. Ask another couple to come along and make it a double date.
8. Game night in.
Order a pizza and pull out a few of your favorite 2 player games. Growing up, did your family play games? What were your favorites?
9. Dinner and a movie (in).
Order food from somewhere new and have it delivered to your door! Then, cuddle up on the couch for a flick and enjoy a relaxing night in!
10. Work on a puzzle together.
Get a 500 piece or 1,000 piece puzzle and get to workin! Odds are you won't complete it in one sitting, so you'll have the opportunity to have multiple date nights with this one!
11. Attend a local high school basketball game.
Wear the school's colors and cheer on the home team! Make it a double date and invite another couple along, too!
12. Go to an escape room.
This is such a fun experience and one that you'd want to invite another couple or two along. Enjoy watching each person's personality come into play as you try and escape the room as quickly as possible. Check out Escape the Mystery Room at Discover Mills.
13. Plan a Vision Retreat.
Go on a vision retreat at the beginning of the year to reflect and prayerfully plan ahead for the next year. Here are some questions to consider when thinking about the year ahead: What would you like to change? What would you like to incorporate? What would you like to get rid of? What is working? And what is not? Take some time to recommit yourselves to the Lord and ask Him to lead you in this next year. Check out this great resource to give you some ideas.
14. Go on a photo scavenger hunt.
Enjoy an evening of spontaneity and laughter as you try and complete a photo scavenger hunt together. There are some great lists on Pinterest. Invite another couple along and make it a double date!